At home, on a street, at an arena, in a studio — one of the most wonderful things about making music is that it can happen absolutely anywhere. But in the era of bedroom music production, where anyone with a little talent and a modern laptop can create professional-level recordings, the recording studio might be regarded as a symbol of a bygone age — the golden years of the music industry, when merely entering a studio required a certain level of success.
So, then, a studio for the modern age must be more than simply a building with recording equipment; more than a place to commit audio signals to tape; and more than the sum of its expertly constructed, professionally calibrated, acoustically isolated parts. The place itself must offer artistic inspiration — a setting that can fuel creativity.
Ocean Sound Recordings — located on the island of Giske, roughly halfway between Trondheim and Bergen — is all of these things.
The expertise of the studio's engineers, its wealth of equipment, and its preference for vintage instruments and recording techniques all form part of the allure of Ocean Sound, but there is no doubt that its serene views of the fjord are the primary draw. Artists and producers such as Arcade Fire, Nils Petter Molvær, and James Iha have chosen this studio to record and mix tracks for some of their best work.
The studio started its life when the band The Margarets, from Giske, decided to return home a er recording music in studios around the world and set up their recording equipment in an old boathouse.
With ample but humble accommodation a ached to the studio, it's easy to see why this is the perfect musical retreat for artists wanting to immerse themselves in the creative process. Although Henning thinks it's hard to say why exactly, he's adamant that "the backdrop of nature aids creativity". And that inspiration doesn't limit itself to any particular genre; another reason Ocean Sound Recordings is so popular is that the artists who visit are extremely diverse. "Jazz, prog, pop, weird-noise music. One of the things I'm most proud of is that we're now getting a lot more electronic artists," he says.
When asked what feeling the artists should leave with — beyond the satisfaction of making a great record — Henning says: "We want recording at Ocean Sound Recordings to be a once-in-a-lifetime experience that the artist remembers for the rest of their life."
Visit Ocean Sound Recordings at Sjøvegen 80, 6052 Giske, Norway, or online.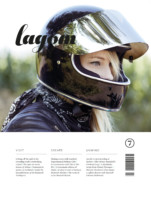 This story was first featured in issue 7, which also visits other creative independent venues and creatives around the world.
Buy Lagom #7