About a 20-minute walk from Plage Centrale beach, Waxed is a hidden sanctuary for coffee-lovers, tucked just off the picturesque alley of Allee des Pins Tranquilles. This speciality coffee shop offers a relaxed, rustic, beach aesthetic with a nod to the surf culture that owners Will and Cai maintain a close connection to.
Not originally from Hossegor, Cai and Will moved to the surf town from the UK after falling in love with the town during a surfing holiday. Both being passionate about quality coffee, and seeing that speciality coffee was absent in Hossegor, they made the decision to open Waxed, combining their love of both coffee and surf culture.
Here they share their recipe for shakshuka, a warming North African dish of poached eggs served in a spicy tomato sauce: "The shakshuka is our favourite thing that Adrien, our chef, has brought out of the kitchen. It's lovely and rich and is so good to eat the day after a few beers or glasses of wine."
Recipe
Ingredients (serves 2)
1 onion
2 red bell peppers
2 yellow bell peppers
3 tbsp cold-pressed organic olive oil
2 tbsp harissa paste
4 tbsp tomato paste
4 garlic cloves, grated
1 tbsp paprika powder
1 tbsp cumin powder
1 tbsp brown sugar
800g ripe (or canned) tomatoes
Salt to taste
4 eggs
Optional Toppings:
Spicy hummus
Chopped parsley
Dried black olives
Olive oil
Method
Prepare your vegetables: mince the onion, peel the skin off the bell peppers, and chop them roughly into small cubes. We peel the bell pepper to make it so er and to get rid of the bi er taste it can have.
Heat the olive oil over medium-high heat in a large frying pan. Add the onions and cook to 'sweat' them.
Add the harissa tomato paste, grated garlic, and spices, let everything cook for another 2 – 3 minutes, stirring frequently.

Add the bell peppers and cook for another 8 – 10 minutes, until you can see the peppers getting softer and releasing juice. In the meantime, drain the tomatoes (if using canned), and chop them roughly — about the same size as the bell peppers. Add them to the pot and bring gently to simmer, stirring occasion- ally. Reduce to medium heat, and cook for another 10 minutes, until you have a thick sauce / purée. Season to taste.
Make a small well in the sauce. Crack your eggs into a ramequin, then gently place them in the well, making sure to not break the egg yolks. Use a fork to whisk the egg whites and mix with the tomato sauce, without breaking the yolks. Simmer for 10 – 12 minutes, until the egg whites are cooked but the yolks are still runny. Note that you can also use the oven as a cooking method, simply by putting your pan in the oven if adaptable, or by transferring it into an oven dish.
Just before serving, plate some hummus at the bot- tom of your bowl to create a nest for the shakshuka. Spoon the mixture with the eggs in the middle, and top it with chopped parsley, dried black olives, and olive oil. Serve with a slice of sourdough bread.
Visit Waxed at 48 Allée des Pins Tranquilles, Hossegor, 40150, France, or online.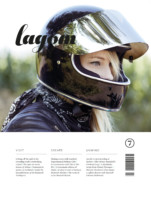 This story was first featured in issue 7, which also visits other creative independent venues and creative entrepreneurs around the world.
Buy Lagom #7