Artist profile: Calamityware
August 20, 2017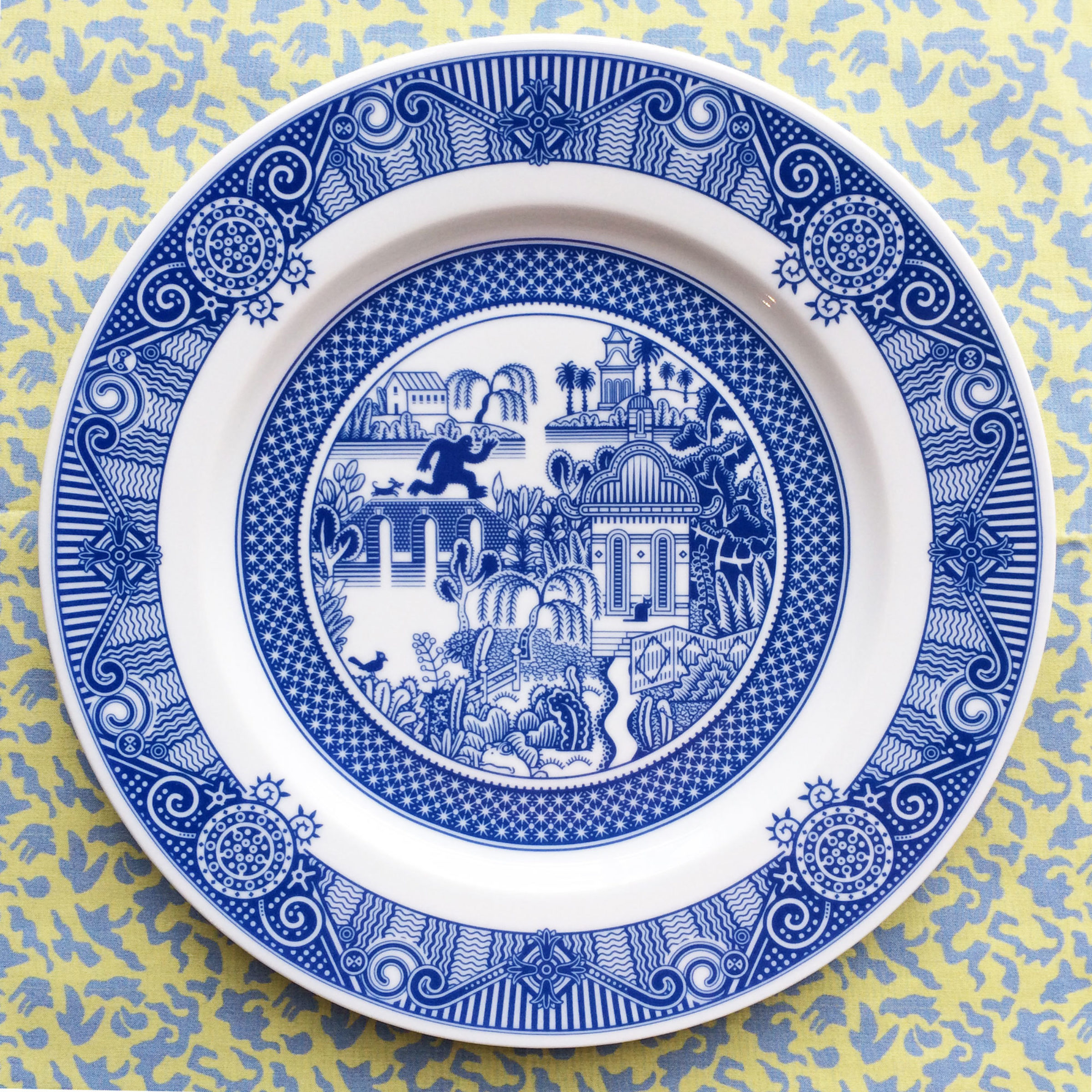 Calamityware is the one-man band outfit on a mission to bring playful design into everyday homeware. From crockery to fabric and playing cards, Don Moyer's illustrations introduce unexpected additions to otherwise traditional patterns. Take a closer look and you'll realise why you shouldn't take Calamityware willow pattern for granted...
---
Have you always worked in the creative field?
I'm a retired graphic designer. For more than 40 years, my role was to help corporate clients solve business problems by making messages clear and engaging. My special talent was creating visual explanations — what I called 'Foglifters' — to help people understand complex topics.
I loved my job. But with Don 2.0 I wanted to experiment with something different. Instead of working for clients, my goal now is to devote myself to self-inflicted projects. I plan to keep doing that until I'm too frail to lift a pencil.
How did the idea for the Calamityware porcelain collection come about?
Back in 2011, I inherited a traditional blue dinner plate with fancy borders and a somewhat Asian landscape with pagodas in the centre. Variations of this design have been around for more than 200 years. You can find plates like this at almost any flea market. It's usually called a willow pattern because there's always a willow somewhere in the scene.
I've seen plates like this my whole life, but never really paid much attention. I was probably focused on the meals, not the design. But when I did look closely, I was impressed with the intricate detail and thought it would be fun to draw my version in my sketchbook. To make myself laugh, I added a pterodactyl.
In the following weeks, I found myself drawing a series of different plates, each with some unexpected calamity to add spice to the traditional tranquil scene — volcano, giant robot, sea monster, etc. I called my plates Calamityware.
None of them are copies of any specific, historical plates. Instead, my approach is to wallow in images of old plates and then put them away and just draw forms that have the same spirit. To reward people who look closely, I include a few Easter eggs — faces or creatures lurking among the ornaments.
When I posted these drawings on my Flickr page, several people said they'd like to have real dinner plates with my drawings. I launched my first Kickstarter crowdfunding project to discover if I could find enough people to fund a production run. As it turned out, it wasn't difficult to find a couple hundred fun-loving people who were willing to support something beautiful, utilitarian, and funny.
My efforts (like all creators) are more chaotic, frustrating, and inefficient than I make them sound.
Can you describe your creative process? What journey do you take to creating your products?
When people talk about the creative process, they seldom tell the truth. I've listened to countless creative people describe how they get results and they almost always make it sound like a tidy, straight-line process. But in my experience, working on projects for nearly 50 years, progress isn't tidy. Things often move forward by moving sideways or moving backwards. Or sometimes not moving anywhere for weeks or months at a time. But when the story of creation is told later, the creator usually makes it sound like the final solution was reached in discrete logical steps that were always fully under the creator's control. Poppycock.
So, when I describe my creative process, the reader should exercise a little skepticism. My efforts (like all creators) are more chaotic, frustrating, and inefficient than I make them sound.
I draw every day. My sketchbooks are filled with explorations of whatever subject interests me. I bounce all over the place — going shallow or deep based only on what interests me each day.
The drawings I like best make me laugh. Occasionally, I draw something that might make a good product. When that happens, I may launch a Kickstarter project to discover if there are people who would like to support a production run.
I've used this approach to fund production runs of porcelain, bandanas, letterpress prints, jigsaw puzzles, playing cards, and the world's most charming shower curtain. After the Kickstarter project ends and the item is produced, if there are leftovers from the production run, I make them available on my site for people who may have missed the Kickstarter project.
Did anything about crowd funding surprise you?
Yes. I didn't realise how easy it was going to be to collect feedback from people who like my work. Whether I ask for it or not, I receive a steady flow of comments, criticism, suggestions, and praise. I like the praise best.
In my previous role as a graphic designer for corporations, I got plenty of feedback from my clients. But gathering opinions from consumers or end users was usually slow, expensive, and fairly shallow. Now I hear from strangers who share intimate personal details about their family traditions, medical challenges, victory celebrations, and quirky things that produce laughter at their house. I love these sweet glimpses and would never have guessed my projects would open these doors.